5 Tricks for Improving Your Local Ranking on Google
With Google My Business (abbreviated as GMB), you can create a Business Profile and post information about your business on Google Maps. This is a very useful service, as it also allows your company appear in search results.
GMB is free of charge and can be an excellent way to attract more customers.
In this week's blog post, we would like to introduce 5 tips that can help your business make it into the top 3 Google business profiles that are displayed in search results. (The red frame in the image below)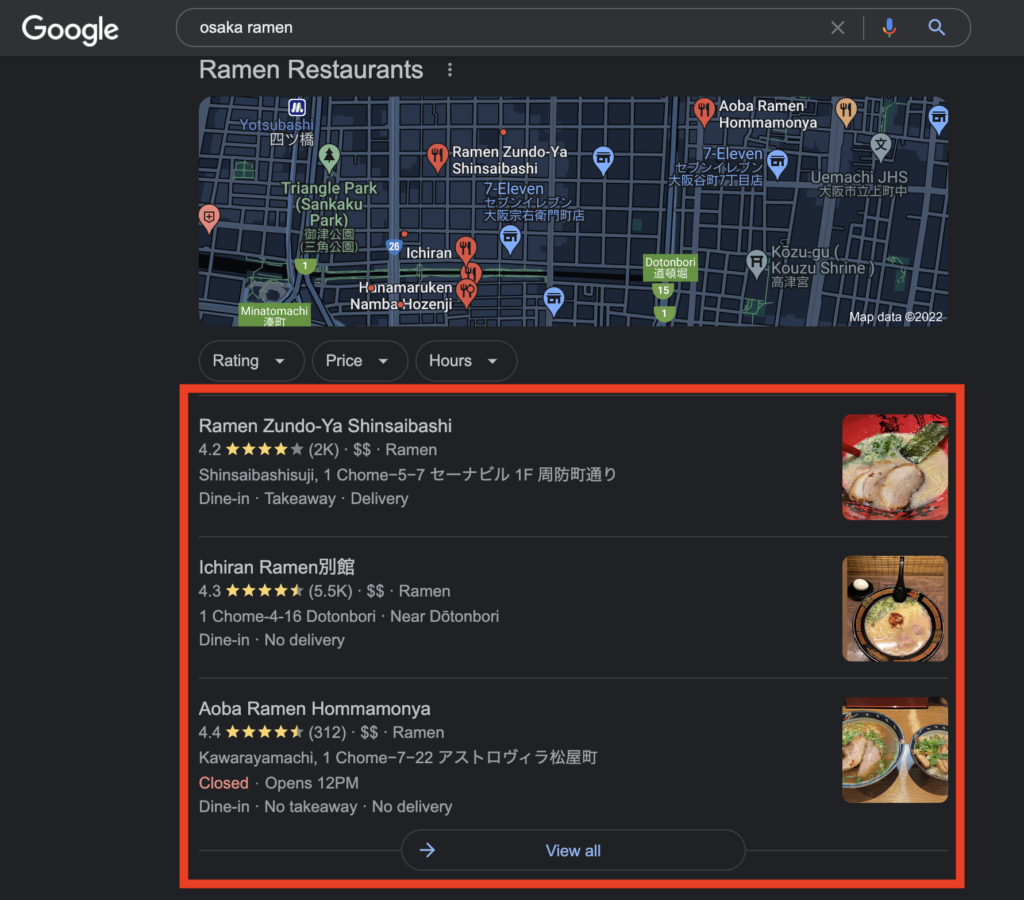 ---
5 Tricks for Improving Your Local Ranking on Google
1. Fill out your business information as completely as possible
The more complete your business data is, and the more relevant your search terms are, the easier it will be to get your business displayed in the top 3. Make sure to fill out all the fields that can be entered, such as your physical address, phone number, business category, and attributes.
2. Complete location confirmation
After completing the location confirmation process, you will be able to create posts, reply to reviews, add images, and more. Google states the clear advantage to owner confirmation, saying that once you finish this process, it will be easier for your company to be displayed in the search results. 
3. Keep your business hours updated
Google always puts user convenience first, and the last thing you want is a review that says "Google said that this shop was open, but when I went there it was closed." Be sure that you keep your business account updated and accurate, so that you can avoid any miscommunications with potential customers.
4. Reply to your reviews
Google explains that responding to reviews in a timely manner is a great way to show that you value your customers. Engage with your customers promptly and politely in the reviews. This active communication can also help improve your business' visibility.
5. Add photos
The more photos you have, the easier it is for others to understand what your business has to offer. Post lots of photos that will appeal to your users and help them find your goods or services. And make sure to keep your photos accurate as well, so customers will know just what to expect.
---
We hope this information will help you get the most out of your Google Business Profile.
And be sure to let us know if you make it into the top 3!
Feel free to reach out and contact us on social media, we would love to hear from you.
Twitter: @monji_tech_en
Facebook: @monji.tech.en
LinkedIn: ALAKI Co., Ltd.
For more information about using Google My Business, please visit Google's official Business Profile Help page.
"How to improve your local ranking on Google"
https://support.google.com/business/answer/7091?hl=en
check the list.